Welcome to Trackfotos.com. This is the home site for the photography of Frank Panucci and tweeter, DRFager132. This site is dedicated to horses, horse racing and all the hard working, wonderful people that make horse racing. On this site I will bring you behind the scenes at America's Number One racing venue, Saratoga Race Course. I will try to capture the beauty of the Thoroughbred and their interaction with the people whom care for them daily. I will have some of the top horses, trainers and jockeys in their everyday environment.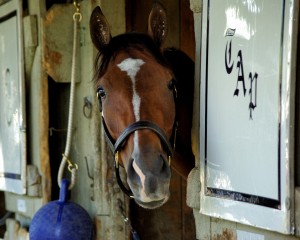 My love of racing started in the Summer of 1968, when Dr. Fager drew off to win the Whitney Handicap at Saratoga by 8 lengths, I was hooked. The other race that help defined me as a passionate fan occurred in 1974. The greatest filly of all time, Ruffian, blew the Spinaway field away with a 12 and 3/4 length victory. I will never forget her awesome walk from the paddock and the breath taking glimpse of her astounding beauty.
On this site I will try to feed the passion of horses and horse racing to all through my pictures. I will also be involved via twitter, hopefully offering useful comments and thoughts regarding horse racing. I have been fortunate to be around horse racing and its people for over 40 years; from shooting the breeze with trainers like Laz Barrera, Allen Jerkens, Barclay Tagg, Todd Pletcher, to running errands for the late great Woody Stephens, and to witness up close such great horses as Affirmed, John Henry, Forgeo, Easy Goer, and latter day stars like Funny Cide, Street Sense, Point Given, Rags To Riches, Summer Bird and Rachel Alexandra.
My photographs have appeared in print, television and on web sites for the New York Racing Association (nyra.com), CBS Sports, Bleecher Reports, Americas Best Racing, Capital District Off Track Betting, Hudson Valley Magazine, Saratoga County Sports, WTEN television and Albany Downtown digest.
Love horses? Love horse racing? Love Saratoga? Love to talk horses? Like to gamble?
Follow me on twitter at @DRFager132 and visit my site often to share the passion. I encourage everyone to join thorofan.com, support and attend horse racing whenever and wherever you can and when able to give generously to charities supporting the aftercare and welfare of these beautiful animals.