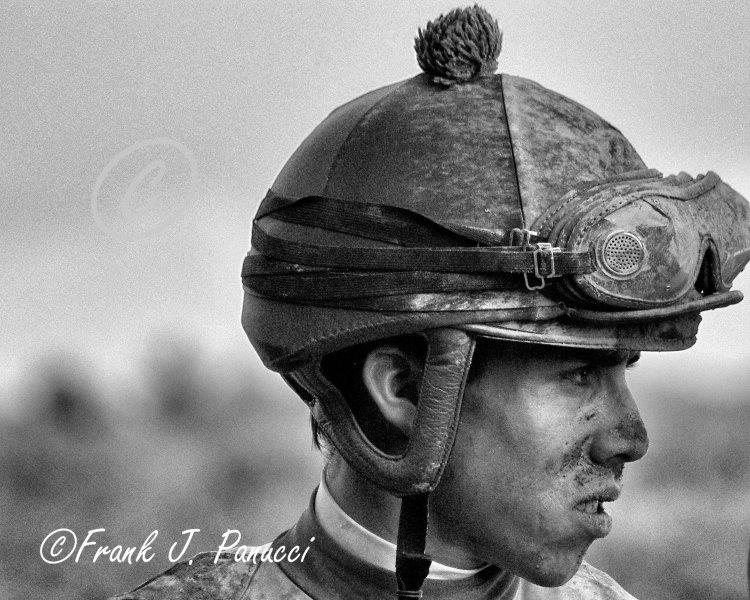 NEWS: I am pleased to announce that my award winning "Best In Show" b/w photograph of  "Irad Ortiz Jr." has been selected for exhibition in  the National Museum of Racing and Hall of Fame's "Photo Finish!" exhibition. The exhibition will debut when the Museum reopens to the public on Thursday, July 16th, 2020. The photograph was also selected to be featured in an online "Photo Finish!" exhibition hosted on the Museum website that will debut in July. With nearly 100 photographers from 23 States (and two Canadian Provinces) to have been selected, I am very grateful to the panel of jurors.

**SPECIAL OFFERING**  I will be offering for the first time, from now to the end of the Saratoga 2020 meet prints of  "IRAD ORTIZ JR. for sale. 16×20 prints framed to 24×28 $250.00, prints w/o frames $150.00. A very limited number of signed prints by Irad Ortiz Jr. may be available (Framed prints only) for $375.00 in August/September. Please reserve now with a deposit if interested. Email me at fpanucci@nycap.rr.com or drfager132@gmail.com

I am photographer Frank J. Panucci, welcome to my site.
I have been on the backstretch at Saratoga Race Course for over 40 years. I am happy to bring you behind the scenes at America's Number One racing venue.
 The "Oklahoma" training track is open for horseman from April to early November each year. It's considered by many as one of the finest, safest training tracks in the country.
My photographs also have been displayed at the Saratoga Center for Art, juried (150th Anniversary of the Saratoga Racetrack) and in print, television and on web sites for the New York Racing Association (NYRA.com), CBS Sports, Bleecher Reports, Americas Best Racing, Capital District Off Track Betting, Racing Dudes.com, Hudson Valley Magazine, Saratoga County Sports, WTEN television, Times Union newspaper & Albany Downtown digest.
I have been awarded "Best" in show for juried photo contests. Recently I was selected to be in the Top 20 out of 1000's of entries in the inaugural, prestigious Coady International Horse Racing Awards. The contest was judged by an all-star panel of photojournalist experts.
I Follow me on twitter at @DRFager132  and on Facebook at the group "Top Of The Stretch" and visit my site often to share the passion. I encourage everyone to support and attend horse racing whenever you can and when able to give generously to charities supporting the aftercare and welfare of these beautiful animals.
The copyrights and ownership of the photographs and content of this web site are for online previewing only and are owned solely by Frank J.Panucci. It is a violation of Federal and International law to copy, reproduce or link to these images without the written consent of Frank J. Panucci. By visiting this site you are voluntarily agreeing to these terms of use. Many images on this site are available for purchase. Copyright 2020 by Frank J. Panucci, all rights reserved.
"Frank remains one of the best at giving us SARATOGA's backstretch feel" – Horse Race Fan Site
"This man captures Saratoga, well worth following" – S.Hurd
"Your photographs are a work of Art" – M.B. Henley